Words by Ken Crawford (B40)
As the sun rose over London on the 15th October, they came, from Royal Marsden, Royal London, Great Ormond Street, Chase, Sherwood Park and St Bartholomew's in Metro's, TX1's and Fairways all converging on Canary Wharf tower at Cabot Square. So started the Company of Hackney Carriage Drivers 1999 Children's Magical Taxi Tour to Disneyland Paris. My 'family' consisted of Keeron, Oliver, Becca (our nurse) from the Royal London and me.
My 'family', along with two others, were in cabs sponsored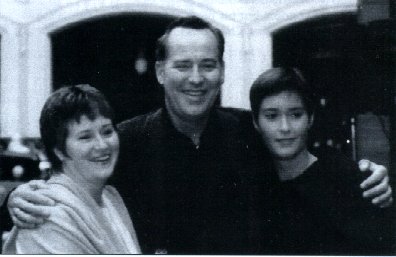 Seeing the kids and the cabs off at Cabot Square: Michael Barrymore together with DaC account clients Denise Sullivan (Pershing) and Sasha Ewart (Killicks)
DAC ON THE WAGONTRAIN TO CHEYENNE
by one of Dial-A-Cab's corporate clients who supplied us with tee-shirts and who then invited special guest Michael Barrymore to have breakfast with us. Michael had his photograph taken with the children (and quite a few of the nurses) but I'm not sure he had much to eat!
The Lord Mayor of London, Lord Levine of Portsoken, joined us for breakfast together with the Master of the Company, Malcolm Linskey and a representative of Canary Wharf before waving us goodbye.
With all of our goody bags collected (containing camera, colouring book and games, lunch bags and for drivers, a free copy of John McLaren's new novel 'Black Cabs' which incidentally gives DaC a mention) we boarded our vehicles and the Wagontrain of 101 vehicles started to roll at 8.45am.

Le Voyage et Commence
The first leg of our journey to Dover was fast and uneventful thanks to our friends from the Metropolitan police aided by outriders from the Kent County Constabulary. At Dover, time for a quick stretch and then onto the ferry, gulp down lunch and raid the 'Duty Free' shop before visiting the games arcade. Why do they only have car and motorbike video racing games - never taxis!
At Calais we were escorted by the Gendarmerie to Paris from where French CRS outriders took us on to Disneyland. So after around 240 miles and a ferry ride from E14C, we parked in Disneyland at about 6pm, French time.
We stayed at Disney's Hotel Cheyenne which is laid out like a typical 'Wild West' town with the
various buildings named after well known figures from the American old west. We stayed in the 'Wyatt Earp' bedroom block, ate at the Chuck Wagon Café and played games in the Nevada video room. The children having gone to bed, we drivers sought refuge in the Red Garter saloon and sang along with a country and western group! But no Miss Kitty!
At breakfast, several Disney characters wandered round talking to the children. Many of the boys were challenged by Goofy to a fast-draw competition and somehow Goofy managed to lose every time! We then took the shuttle bus to Disneyland.
All of the rides were greatly enjoyed although a hiccup on Space Mountain with my 'family' aboard resulted in the shuttle stopping halfway up!

Mosey Along Down To The Rio Grande
That evening, we walked along the bank of the Rio Grande and used our food vouchers to eat in the village at Annette's Diner - selected by nurses from the Royal London. Entertainment was provided at intervals by the staff who stopped serving, clambered onto counters and tables and sang well known hits. The waitresses, all wearing roller skates, (must have been a bit cold!...Ed) provided a very speedy service without dropping any trays.
After breakfast on Sunday some of the children enjoyed a ride around the car park on Police bikes, having first been instructed in the use of the controls for the blue lights and the sirens. About 9.30am David Rowland somehow managed to regain possession of his men and machines and we mounted our
'wagons' to start our return journey.
Again, the CRS handed control over to our Gendarme chums who assisted us to arrive in Calais on time to board the ferry and commence the homeward journey.
At Dover we said goodbye to the Sherwood Park group and the rest of us, once again helped by the Kent County Constabulary, sped to-wards the Blackwall Tunnel where the Wagontrain split up to make their various ways home.

Thanks are due to many 'Dream Teams' the Disney committee which includes our own Russell Poluck (T55) and Jim Rainbird (T25), the guys that go 'all the way' Chief Superintendent Keith Mahony, Inspector David Rowland, Sergeant Phil Scott, PC's Roger Brooks, Robert Summelin, Michael Shaddock, Paul Parkinson, and Laurence Cohen. The Kent County Constabulary. The Gendarme squad. The CRS lads Oliver Landry, Joffrey Favquemberge, Pascal Concil and Juan Martinez. The nurses and Doctors, AA crews, London Ambulance Crews and of course the drivers, who this year included Terry Bezant (W87), Tony Boon (P29), Patrick Hinchion (R61), Stan 'Gasman' Roth (Y53) and our marathon man John Dixon (B67). My apologies to any DaC drivers I may have omitted.
One missing highlight this year for the DaC team was our chairman Brian Rice, usually there suitcase in hand to wave us off. He did however send his apologies, claiming 'work must come first', but Brian where was the money for your round...!