When a Dial-a-Cab logo'd taxi was seen flying along their screens in BBC TV's Mike Bushell Sports News followed by the driver then being interviewed, Call Sign's phone began ringing incessantly for two days with drivers telling us they had seen it and could we explain what it was about? So we set up a meeting...
"Hello, I'm Bill Cornish, Tango 76," was how the quietly spoken, slightly built DaC subscriber introduced himself in an unassuming manner to Call Sign's reporter.
Bill was the 2005 UK Tai Chi Champion in the Under 75Kg weight bracket, beating all-comers in this prestigious competition and bringing home a Gold Medal in the process. But what is Tai Chi and how did Bill get into the martial arts regime to such a degree that he became the UK Champion?
"Tai Chi - or HaoTaiji - is an ancient Chinese healing art using a series of gentle focused exercises for mind and body," Bill explained. "It is also referred to as the ancient art of wellbeing. By increasing stamina, flexibility, relaxation and overall quality of life, the body's natural healing process is in turn, encouraged."
Bill continued by saying that Tai Chi consisted of slow connected movements, used mainly to keep the body in good shape and to relieve stress. Accomplished practitioners can also use its techniques for self-defence.
"By focussing the mind, you can open your skeleton joints and release a powerful force like an arrow being released from a bow. And just like the archer who decides to release the arrow when he wants to, you can release the force within yourself when you want to."
DaC's Tai Chi Champ!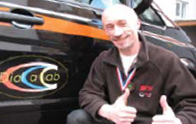 Bill the DaC driver

Going back to how it all started, Bill recounted how he used to run a snooker club attended by world class players such as Stephen Hendry and Ray Reardon, but was involved in a motorbike accident suffering whiplash and a damaged arm.
"I was later invited to attend a seminar on Tai Chi and it felt good. I felt comfortable with what I saw the body could be trained to do, and I was hooked," he said with a smile, adding that was now almost ten years ago.
Going into the art itself, Bill explained about the 13 internal requirements that have to be put into place at the same time - regardless of whether you are standing or sitting - in order to focus the body's natural strength. He demonstrated by slowly raising his arms above his head and very gently bringing them back down to waist level again, describing how he was opening his shoulder, elbow and arm joints as he stood firmly rooted to the ground. He
offered several other examples of the power that the human body can achieve when our specially selected reporter - himself a former Judo instructor - attempted to dislodge Bill from his chosen posture, but to no avail. Bill did not budge one inch and showed no sign of discomfort at being jostled.
Bill also told Call Sign that he studies under the guidance of his teacher and coach, Ugur Osman - himself a disciple of Grand Master Liu Jishun.
The art of Tai Chi goes back around 3000 years and was originally used on the battlefields of Asia. Judging by the power of the human body as demonstrated by Bill, its use must have had a catastrophic effect on any foe.
On 25 September 2005, Bill won the coveted Gold Medal that he proudly wears today. He also continues to develop his mental and physical abilities.
If you are interested in learning more, or perhaps would like to join a class to take up this ancient craft, Bill would like to hear from you. Leaflets are available in Driver's Reception or you can call Bill Cornish on 07791 142170...

ęCall Sign Magazine MMX