KPMís Cabvision are celebrating after fitting their 1000th television system into the back of a London Licensed Taxi. Following the success of TVs in taxis across Europe, Asia and America, Cabvision decided to follow suit in March 2005 with a mixture of news, comedy and documentaries spread over seven different channels - all of which are available for selection by the user. The system pays drivers a similar amount to those having outside liveried cabs and hopes to attract advertising to pay for it.
Tom Paton, sales and marketing director at Cabvision, told us:
"Cabvision offers advertisers total confidence in delivery through the provision of real time electronic data capture. This data is derived wirelessly from a viewing log which can provide details of the number of times an advert is served, its frequency and viewing duration for each passenger journey."
Dial-a-Cab Chairman Brian Rice told Call Sign readers in last monthís issue how impressed he had been after seeing a news text item update via Cabvision that even the driver hadnít known about yet! Now he has confirmed
As the 1000th TV screen appears in a London Taxi
DAC SPONSOR SAFETY ON CABVISIONÖ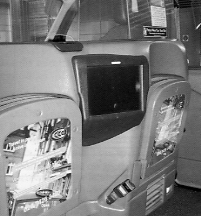 that DaC have decided to sponsor the safety aspect of Cabvision. He told Call Sign:
"We like to pride ourselves that we are always on top when it comes to using the latest technology within the cab trade. Now Cabvisionís
technology has given us the opportunity to show passengers that we are concerned they should have a safe trip. However, we also felt it important that we should promote the London taxi trade as a whole and that does come
across in the film."
When passengers enter the taxi and the meter is switched on, the Cabvision screen lights up and a DaC taxi appears! As the star of the film enters the on-screen cab, a voice welcomes the real passenger to Cabvision and tells them:
"On behalf of Londonís licensed taxis, Dial-a-Cab sponsors safe travel. Please fasten your seatbelt as required by law." After explaining how to operate the Cabvision remote control, the voice then goes on to add that every London taxi is licensed by the PCO. It adds: "For your own safety, always be sure to use a licensed taxi." The message ends with a reminder for passengers to take all their belongings with them when they leave the cab.
While passengers can mute the screen at any time, they cannot mute the initial announcement made by DaC.