EASTBOURNE TERRACE:
TRAFFIC ENFORCEMENT OR JUST A MONEYMAKER?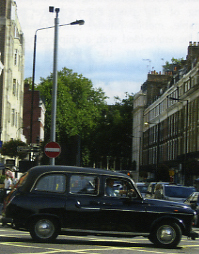 The camera is watching you!
Call Sign's ever-alert snapper, Alan Green, recently took this photo of the latest all-seeing camera supposedly to enforce traffic regulations. We can't help but surmise how much this and the other cameras scattered around in ever-increasing density, actually earn?
This one is in Spring Street and covers the southern end of Eastbourne Terrace, the yellow box at the junction with Praed Street and will also cause PCN's to be sent to those putting on "foul" around the corner in Craven Hill.
Our question is just WHO, exactly, is this camera aimed at? Can it possibly be anyone other than London's Licensed Taxi drivers trying to do their job and to also to provide a service to those passengers arriving on the Heathrow Express? Aren't these the same passengers that London Mayor, Ken Livingstone recently flew to California to encourage in coming to London? So why do TfL make it so difficult for Taxis to do their job?
Sadly, some of the fault lies with us and those few selfish drivers who have no consideration for anyone other than themselves. They are the ones who will "put on" and block up the whole junction in doing so.
Now it's too late and unless you save PCNs, be careful where you stop when trying to get into Paddington.
DAC'S BATTERSEA
PARK RUNNERS!
Do you fancy getting fit while having fun? DaC driver Mike Bures (B01) could have the answer – running around Battersea Park with a group of other drivers all thinking the same way.
Mike told Call Sign: "This is an invitation to my fellow Dial-a-Cab drivers who, like me, have been looking for a way to exercise and lose weight. For some time I had been trying to think how I could do it without interfering with the all-important work regime!
One day last November, I was having tea at the Royal Oak and chatting to Simon Connolly (N48) about his gas engine and the troubles he has had with it. During that conversation, I asked how he stayed so slim while I had faced the frustration over the years of joining gyms and then always giving up because I was tired or had to go out and earn some money. Simon invited me down to Battersea Park where he and ten other cabbies ran every Tuesday and Thursday. And that was the start of my twice-weekly run and it has changed the way I think about my health.
We meet in the car park at about 1:50 pm (cab parking is £2.20p) and make our way to the Millennium track to use the changing rooms - which also have hot showers (£1.50p). We start with a warm-up period of stretching exercises including a bit of banter covering all aspects of life – including cab driving - then off we go for a five-mile run. By 4pm, the run has finished. Some are ready to go home, whilst some like me, are starting work. Some others even do a bit more running! You just suit yourself…
When I first started running, it took me a few months to be able to do the full five miles without having to stop for breath, but the result is now that I feel less stressed and look forward to meeting the lads on Tuesday and Thursday with the added knowledge that at 6 feet 4 inches, my 17 stone 12 lbs of last November has now become a stable 15 stone 2lbs.
Any DaC driver who'd like to join us can email me at buddybures@yahoo.co.uk. I look forward to seeing some of you there…"