Sadly, we must report the death of another DaC driver, Tibor Hajdar (C39) who died on March 26. He had been with Dial-a-Cab since April 1989. He was also well known for running the Royal Oak Savings Club for a few years with his friend Jim. His daughter Angela has written an obituary for Call Sign...
My mother and I are finding this all so very difficult to deal with as it came as such a shock.
My father was born in January 1942 in a town called Gyor in Hungary. He was one of five children who arrived in this country to find a better life during the 1956 revolution with Russia. He stayed in refugee camps before finding housing in East London.
He began his working life as a hairdresser where he met his wife of nearly forty years, my mother Kay. During those early years he successfully owned two shops, one in Leytonstone and one in Aberfeldy Street, Poplar that he and mum ran for over 30 years.
He decided on a change of career in the 70's and started the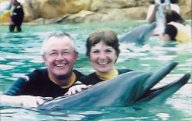 Tibor with Kay on a recent holiday
Knowledge while keeping up his hairdressing and family duties.
He was a very active man and a keen water skier. Every Sunday, a crowd of us would go down to Sheerness with our boats and have a fantastic time skiing and having mud fights!
Some years ago he also set himself the task of learning to fly. He achieved it and gained his pilot's licence. He loved taking his family and their young children for flying experiences from Southend airport. Most recently, he became a self taught computer expert and set up communication links with his cousins in Hungary, also establishing Video Conferencing which brought great fun and even closer ties with his family. He continued to visit Hungary at least once a year and was always ready to help any family member in need - whether in the UK or Hungary.
He travelled to Africa, Caribbean, the USA and most recently to India. Many of the photos of his adventures record the fun he and his family had on these trips.
He had two grandchildren whom he adored and who will miss him immensely as he was always there with his guidance, wisdom and wit - he told many a bad joke! He was such a loving, wise, hard-working, unjudgemental and caring person and will be very sorely missed. There is so much more to say about this great man, however I am finding it very difficult to continue but I hope this will give DaC drivers who knew dad, an insight into his life.
Angela Hajdar