Call Sign readers will know all about the exploits of Dial-a-Cab's shooting blonde bombshell Donna Merry and dispatcher/driver John Wells (K68).
Donna is a former captain of the England Ladies Shooting Team; she went to the National Skeet Shooting Association (NSSA) World Championships in San Antonio, Texas in 2001 and returned home with one Silver and two Bronze medals in addition to a Plaque for winning her class!
Then there is DaC dispatcher and former Taxi Driver of the Year, John Wells (K68), who returned back to Brunswick House from the same world championships brandishing a Silver medal, which he won when he and Donna teamed up for the doubles. Their victories came against the world's top shooters.
And then there is Bob Raymen (D98J). He was mentioned briefly in the last issue as having been offered a 'wild card' entry thanks to Call Sign and who will be joining Donna and John to make up a team of three representing Dial-a-Cab in the DaC-sponsored 2003 European Open Shooting Championships to be held at Northampton on Sunday August 10.
As Bob's name is new on the shooting scene, Call Sign spoke to him to find out how he estimated his chances of becoming the 2003 European Men's Skeet Shooting Champion...
"I'd be reluctant to put a pound on my chances even if I could get one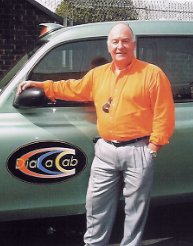 DaC's million to one outsider Bob Rayman
million to one odds," said Bob. "I reckon two million to one would be about right! I've been shooting regularly at Waltham Abbey shooting club for around ten years, but I have never been in a professional competition before. Donna and John are experts and should leave me well behind, but you can never say never! I could just pick the day of the DaC European to shoot out of my skin, while everyone else has a stinker! Every sport has its occasional shock results!"
Bob concluded: "Whatever happens, I am really looking forward to the day and I will be taking my family up to Northampton to watch me shoot. I would also like to thank Call Sign for getting me a place in the Championships. However I do, it won't be for lack of trying!"
Anybody who wants to watch the DaC European Open Skeet Shooting Championships will be more than welcome. Admission is free and there is a licensed bar on-site. Don't forget - Sunday August 10 at the Northampton shooting ground...