ELECTRON CARDS WARNING!

Do not accept any card that bears the Electron Logo
Some drivers have been accepting the Electron Debit Card, probably because they have seen the Visa sign incorporated above the Electron logo and assumed that it was ok. Dial-a-Cab cannot accept this particular card although it does swipe through your terminal.
Please check carefully that the card you are accepting is NOT an Electron. Would you also please check all credit / debit card's expiry dates whether the trip was through the system or a street hail.
ANOTHER GRANDCHILD FOR RUSSELL POLUCK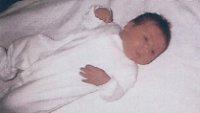 A big welcome to Jasmin Sophie from Call Sign
Call Sign is delighted to send congratulations to Russell Poluck (T55) and wife Barbara on becoming grandparents again.
Their eldest daughter Debra, together with husband Ashley, did all the hard work and produced their second child - a sister for Matt as well as granddaughter for Russell and Barbara. - on March 21. She was named Jasmin Sophie. .
Of course, so far as this mag is concerned, Uncle Gordon (R34) must also get a mention. No one is more capable of raising a toast to the new baby than the trade's finest toastmaster!
This completes a wonderful 12-month period for Russell following his investiture at Buckingham Palace last summer with the MBE for services to the taxi trade - not least of which was his sterling work over many years as Chairman of the Taxi Driver of the Year Committee.
The birth also meant that Debra couldn't run in last month's London Marathon. Something about changing nappies was the reason given!
Our congratulations once again to all in the Poluck family...
Dial-a-Cab driver Melvyn Harvey's (E87) son Richard is now back playing full-time tennis following a stomach pull and back strain injury which kept him out of the sport for two months. But what a way to make his return by winning the under-18 Sutton Junior Grand Prix tournament against very strong opposition over the Easter holiday.
Prior to his injury, Richard was at the Essex County Closed Tournament at Thorpe Bay, where he won both the Under-18 Singles and Doubles titles while also managing to get to two other finals at the same event!
Richard is now heading off to Cardiff for the Men's British Tour event.
But getting over the injury was difficult. Dad Melvyn told Call Sign:
"Richard's physio put us in touch with a guy who runs a clinic for core stability. He had
gone to Leyton Orient Football Club to help a player, so we got an appointment for Richard too. We went along and after measuring Richard in all positions, he has given him a programme of stretches and exercises designed especially for him. He also now keeps a diet and fluid intake chart. It was rather costly, but it has given him a personal programme for his tennis and it could be money well spent."
Things will slow up a bit now for Richard while he takes his A-levels of PE, IT and Business Studies, but a full summer of tennis is expected from the youngster who no less a player than Greg Rusedski, considers to have such a promising future.
Melvyn explained to Call Sign how expensive it is keeping Richard on the tennis circuit:
"If anyone out there reading Call Sign knows of anyone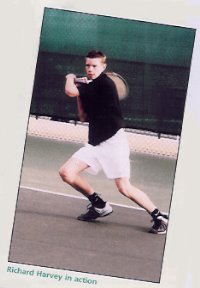 who might be interested in sponsoring a real up-and-coming young tennis player," said Melvyn, "then please ask them to call me. You never know, your passenger may mention something about sponsorship and perhaps you could tell them about Richard. My number is 07939 246 870."